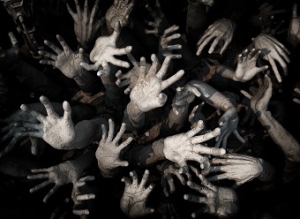 The Desolate Prince
El príncipe desolado
by Juan Radrigán (Chile), 1998
Ten male (parts can be doubled), two female.
In a deeply-felt tragedy of Classical proportions, Chile's most renowned dramatist, Juan Radrigán, re-imagines the myth of Lucifer and Lilith for the contemporary age.  Expelled from Eden and doomed to walk the earth for eternity, the Fallen Angel and his mortal wife are forced to return to the garden from which they were once exiled, in the hope that their children, who dwell there, might save their dying mother.  But the garden of Paradise has become a theocratic state, its people frozen by fear of blasphemy and incapable of independent thought or human kindness.  As more exiles appear at Eden's walls and Lilith's health worsens, can anything break the asphyxiating chains of religious fervour taken to extremes?
The love they let us live stank of screams, stank of blood, of swords in the night. No one knew that death was so close; the terror befell us suddenly, like the walls of the universe crumbling; blood flooded into our houses; our life was a whirlwind of cruelty. Blood on the child, blood on the wife, on the father and the friend, blood in the rivers and the mountain caves, blood from the family to the foot of the horizon.
Blood; three times I gave birth and three times my child was killed; blood took away my children, tore them away from me when life was being born in their eyes.
My mother was called Milcah and my father was Nahor; Zillah, Sarai, Jared and Eleazar were the names of my siblings: now they are all named blood.
This play has been translated as part of a British Council Santiago project, which aims to translate a number of modern Chilean plays into English for the first time.  Other plays in the selection include The Recommendation by Egon Wolff, another of Chile's most renowned and prolific playwrights.
Contact me for more details.